Fairly new to working with stained glass but know I want I to stick with it. I have been given a small section of the new work shop/garage in which to have a glass work area. Now is the fun part of designing it but I'm a bit lost. I do have two really old wooden drafting tables that I want in there. I love them to pieces. They are beautiful old pieces with cabinets and drawers and nice metal on them. They aren't ideal for working on stained glass but I use them now in the porch and are nice for drawing too. So I'm looking for tips and ideas. Should haves and shouldn't haves that others have.
My space is limited, odd shaped and upstairs but beggars can't be choosers when trying to fit a girly stained glass room into a man cave type of workshop. The upstairs is only going to be a corner of the building. I am attaching a drawing of the area.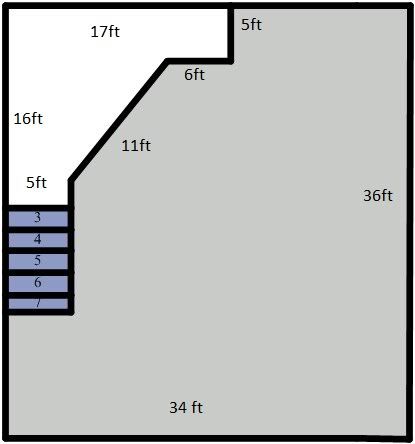 There WILL be some windows up there and some type of vent for soldering. There won't be a solid wall on the right. It will be railing and a gate so that we can lift heavy/large stuff up there with the forklift. I would love a sink but I think that is out unless it's like a dry sink. There is going to be a large...LARGE as in bath tub sink downstairs. If I have my way this will be a temp. glass area since I want to put up another building with a summer kitchen that will also have a glass shop in it and another workroom area for reloading.